FrontLine Gardens is a 501(c)(3) non-profit organization committed to providing needed gardening resources both equipment based and therapy based to our Nation's Military Veterans and Law Enforcement Officers injured in the line of duty and/or those suffering from Post-Traumatic Stress (PTSD). Our hope is that our gardens provide physical healing, emotional healing, mental healing, and spiritual healing!
We promote gardening as a therapeutic method of combating Post-Traumatic Stress. In doing so, we utilize therapy through gardening in a positive manner and cooperate with other organizations to provide our members with the needed resources to successfully begin rehabilitation. 
Our mission is to assist in the journey to healing veterans, first responders, and gold star families with PTSD physically, emotionally, and spiritually through therapeutic gardening.
Because each of our Heroes are different, the program is completely customized to each participant based on their therapist's feedback.
A Letter from Our Director
Moral Injuries
Moral Injuries is a word used frequently as a type of Post Traumatic Stress and has a very complex definition. Moral injury refers to an injury to an individual's moral conscience and values resulting from an act of perceived moral transgression, which produces profound emotional guilt and shame, and in some cases also a sense of betrayal, anger, and profound "Moral disorientation."
Trauma does not care who you are. Trauma will move in and stay with you for a lifetime if unaddressed. Trauma wears many different faces in the after effects; Post Traumatic Stress (PTS) is a result and effect of trauma. PTS happens for many different and diverse reasons. Sometimes, it's something you did, sometimes, it's something you saw. Sometimes, it' s something you think you should have done, and sometimes, it's survivors' guilt. Symptoms can be flashback, nightmares, night terrors, difficulty sleeping, loss of interest, depression and anger outburst. Because PTS wears many different faces so does the approach to treatment. Sometimes, while undergoing therapy, participants get stuck. They can't seem to find a direction to move forward. This can lead to depression, addiction, self-medication, and personal issues.
By adding an alternative form of therapy to their current program, this can sometimes "unlock the block". At Frontline Gardens we offer the opportunity to add garden therapy as an addition to their current PTS therapy. It can be integrated into the conversation with real time experiences and can allow corners of the mind that have been buried to be reopen.
At Frontline Gardens, we work with the therapist to incorporate the gardening process into the therapy program. We build a custom-built raised bed garden at their residence. We supply the soil, first plantings, and gardening assistance. Therapy is always about moving forward. It's not always easy, but you have to keep trying. One day, you will find the one that works for you and heals your soul.
Failure is not the opposite of success, it's a part of success. "Failure is not a loss. It's a gain. You learn, you change, you grow. I think this passage in Jeremiah 8:4 sums it up our approach best. Jeremiah says this to the people of Judah. "This is what the Lord says; You know if a man falls down, he gets up again, and if a man goes the wrong way, he turns around and comes back."
• Physical Healing
• Emotional Healing
• Spiritual Healing
Stephanie Trost
Executive Director
FrontLine Gardens
Veterans/First Responders Served
We love to share stories and testimonials from our participants, members, and partners. Each, of course, is shared with full permission and is a part of the therapeutic process.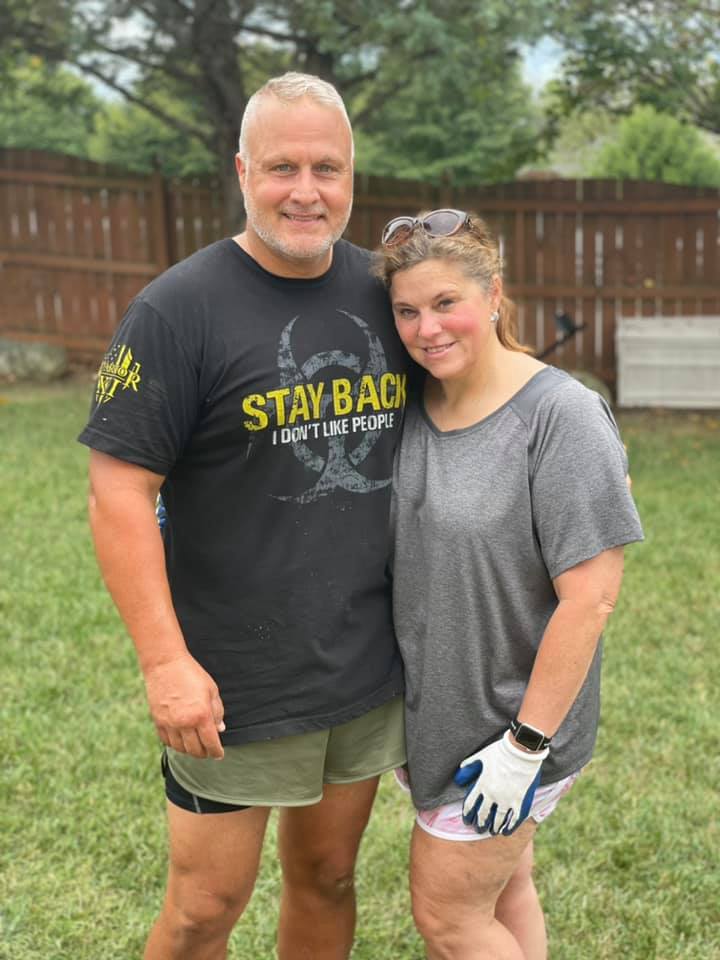 Thank you, Frontline Gardens, for this amazing gift and opportunity. This garden could not have come at a better time. My name is Kim and my husband's name is Eric. We met back on October of 2008 and Though I was not a part of his life back when he was in combat, I feel the effects of it every day. Within the first month of our relationship, I just knew that something was not right. The nurse in me picked up on every little ailment, every emotion, every reaction and how quickly his personality could change. Sometimes it was a sound, sometimes it was a smell, sometimes it was just nothing at all. As we grew closer, I started observing many different behaviors Sometimes it was just the look in his eyes. I was well aware of his history with the Marine Corp, where he had been, what unit he was attached to, what countries he has been to but we never really talked about the things he did and things he saw. I did however know that there was something deep down inside of him that nobody had ever taken the time to figure it out. He was labeled so many different things, he was stereotyped and was made out to be someone he was not.
He was lost and had nowhere to turn. Nobody ever tried to figure out why Eric would turn into this monster every now and then. The more time I spent with him, the more I observed the battle he was fighting. It was a battle within himself. The more I started to notice, the more he tried to hide it. I felt like sometimes he was a child acting out. There were many nights that I laid next to him wondering if he was going to survive the fight. The nightmares became worse, the screaming became louder, the thrashing around in bed was getting worse, constant night sweats and many times taking in different languages. I was now becoming worried for my safety. After lots of talks, a few frightening moments and taking a long hard look at reality, Eric finally admitted that, yes, he was struggling on the inside and he was willing to seek help. At that point in his life, he was in a very deep dark hole. I felt as though I had a calming effect on him. I was able to talk him off the ledge a few times and I believe he looked to me as his "safe" place.
He became very destructive to himself and the people around him. Making bad decisions and "punishing" himself. Unfortunately, in the process of it all…. He damaged a lot of relationships, hurt many people and was reckless. For my mental health and emotional being, I had to take a few steps back and distance myself. He still had not gotten the help he needed. Little did we know that one night when he went to sleep. When he "woke" up, his life would be changed forever. The months leading up to this night, Eric continued to self-destruct and continued punishing himself. This destructive behavior mixed with some outside and environmental influences sweltered inside of him. In the middle of the night, Eric became enraged, tearing the house down like it was a war zone, hurting anything and everything that got in his way. All with a loaded gun in his possession. The following morning, he was woken up to a knock on the door and multiple officers outside his home with guns drawn. By the looks of the house, he knew something was wrong but still unsure of what exactly happened. Off to prison he went with 2 felonies. I felt like I failed him, I felt like the system failed him and I especially felt like the Marine Corp failed him. Not once, did anybody every try to figure out why this happened or why he became so enraged. While In prison, the episodes continued to get worse.
After multiple complaints, he was FINALLY evaluated for a mental health disorder. They diagnosed him with PTSD and he was put on medication to help him get thru the night without nightmares. 2 1/2 years later. He was released on good behavior and was put on parole. Within the first week of being released, he was referred to Tom Humphries at the VA. He was reevaluated by the VA and was given a final diagnosis of PTSD. Since then, he has been on many different medication regimens, started and lost a few jobs, spent many hours in group therapy and weekly meetings with a therapist. We have met an amazing group of Veteran families that are now our family and have become our rock.
Eric remains paranoid, hyper alert and deals with anxiety every day. He rarely leaves the house without me and only associates with a very small group of people. He doesn't trust many people and puts all his time and effort into his home, his yard and all the flowers that surround it. Every day is still a struggle but he continues to work hard at being the best possible version of himself. He has 5 children (2 of which have not been in his life for a very long time. If he had only gotten the help he needed sooner, things may have ended up different). The other 3 children (from a previous marriage) are all teenagers and at a time in their life where they want nothing to doing with their parents. I love my bonus kids as much as I would as if they were my very own. They are distant at times, not really having the full understanding of what Eric went thru and why he is the way he is today. The don't understand the military thought process, and the military way of doing things. Eric's PTSD has had a major impact on his relationship with his children. My only hope is that one day they will try to understand what he went thru and why he lacks the ability to show compassion. Eric strives every day to be the best dad he can be but due to the circumstances he goes through a different hurt or a different emotion every day when it comes to the relationship with the kids. We are continually looking for things to keep him busy, things to distract him and things they make him feel safe. He has found that his lawn, his flower beds and his new cabin/porch brings him happiness and keeps him busy.
Things were going very well until we found out a month ago that the therapist he has had for the past 5 years is transferring to another VA out of state. He was devastated. His last session with her was a week ago. I really thought this was going to set him back mentally. I didn't know what to do or what to say. I tried everything I could do to keep him with the same therapist (even out of state) but the VA would not allow it. Then out of nowhere we were approached by Stephanie Trost and Frontline Gardens about putting in a garden for us and being able to apply the gardening process into a type of therapy. Eric was against it at first because that would mean people would have to come to our house and people would be standing on his grass. After Stephanie explained the whole process to us, I could tell it really peaked Eric's interest. I started to see excitement in his eyes. He now had something to look forward to and something to keep him and his hands busy. Every day since then (about 3 weeks ago) this is all he had talked about. Every season he will have something to look forward to. He has found a purpose. Frontline Gardens has already impacted our lives. You came at the most perfect time for us. Thank you, Frontline Gardens, Michael and Stephanie Trost and all the volunteers (USMC Delta Company), for helping make this possible for us. We will forever be grateful.
Kim Brefini
Kim Brefini
Learn what it takes to build one of our gardens
Get involved in our mission!
Ready to get your hands dirty and volunteer?